Revolutionary Facebook™ Targeting Tool Delivers Targeted BUYING Audiences In Seconds
In the era of digitalization, Facebook Ad is the most popular way that helps small & big businesses with their promotional activities.
Companies are going through lots of various Marketing Planning and building strategies on Facebook ad targeting to reach the right audience to make new buyers.
Facebook has its own way of targeting or connecting to the target audience in a more inexpensive way, Facebook's ad manager misses the ability to attract the target audience precisely.
Connect Explore appears as the best Facebook interest targeting tool to achieve advanced marketing plans.
Why Facebook Interest Targeting is so Important?
Facebook has the largest Audience library with various type of interest, Demography, and behavior, but to produce the best result for the business and generate more sales, it is very important to target only the right audience on Facebook.
 Right Interest targeting will help your business to grow quickly with the help of right buyers. To generate more leads for your business, it is very important to have a right Facebook Audience Targeting to drive traffic on your website. 
 For Startups and new enterprise, this can be a nightmare as well as time occupying process of audience targeting, but being the most effective Facebook Interest targeting tool, Connect Explore saves your valuable time and money by locating your Facebook ad targeting automatically. 
Connect Explore is a revolutionary Facebook Ad targeting tool that automatically searches and prepares a list of targeted audience & buyers for your services or products based on their preferences.
Being the best Audience targeting tool for Facebook Ads it helps your campaigns to towards those potential buyers.
As the best interest explorer, Connect Explore spots effective audiences and generates new opportunities for a business.
As per my experience, it is the best Facebook interest targeting tool that gives quick and accurate results.
When you create an Ad on Facebook and in the custom audience targeting when you type any specific interest, Facebook will show you, the limited amount of suggestion and most of the time we choose some of the interests which suggested by Facebook, Even though we are not 100% convinced with them.
On the Other Hand, Connect Explore understands the need for targeting the right audience. You just need to type a single interest related to your target market, you will be afforded a list of suitable targeting audience.
As soon as you pick a few of the suggested interests, It will again bring up some more recommendations for more with the feature of automated suggestions" which is really laser-focused audience on Facebook. 
In this software, you do not require any split testing because it will come up with the most worthwhile interests in real-time.
Connect Explore is also profitable when it comes to cost.
It's 100% compatible with various types of languages that help you to connect worldwide Facebook Audience Targeting.
Unlike others, Connect Explore runs directly through Facebook's API which means that all the given search results are pre-verified by Facebook itself and genuine. 
This dynamic Facebook interest targeting tool is available at a one-time payment of just $197 for lifetime access. [For Limited Time Only, Very soon the creator of this tool put it on a monthly basis. The actual price is $297/ Year.]
WAIT! They are so confident that you will benefit from Connect Explore that they would like to offer you a 100%, 30-day money-back guarantee. No questions asked!
Watch the Demo Video Below for more information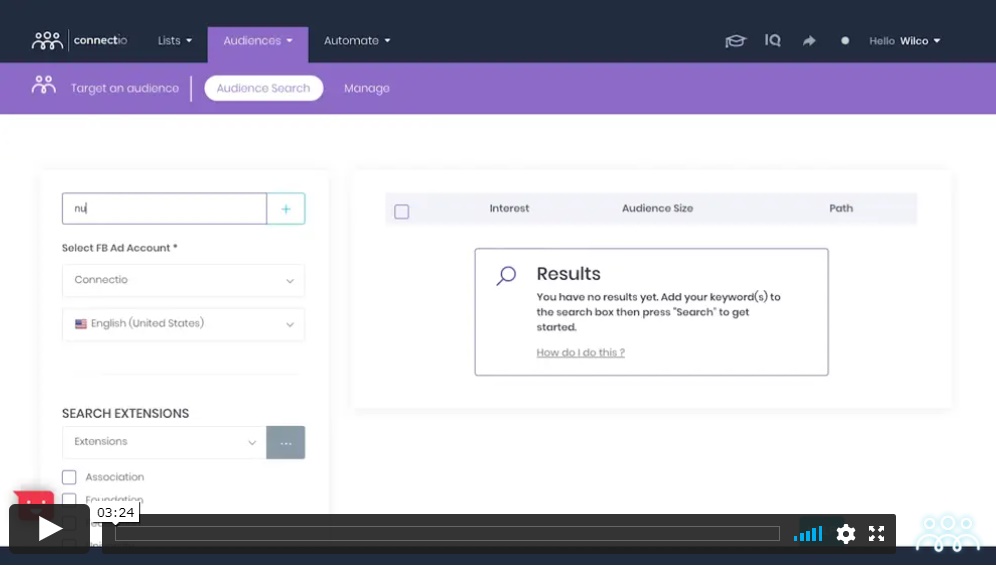 How does Connect Explore Work?
Connect Explore runs through 4 main steps to perform the best Facebook Ad Campaign. These steps include,
Discovery: Firstly, it explores Facebook's hidden interests from your competitors that you can also target.
Filter: After that, it refines the list according to the best opportunities and best potential buyers who will be interested to buy the services and products offered by you.
Target: Then, those results are applied to the selected interests for achieving the highest return on your investment (ROI).
Monitor and Analyze: Lastly, the referred interests are closely observed. They are tracked based on their performance like which ones are giving the best results and to save us money and efforts.
Connect Explore Lifetime Offer for Limited Time!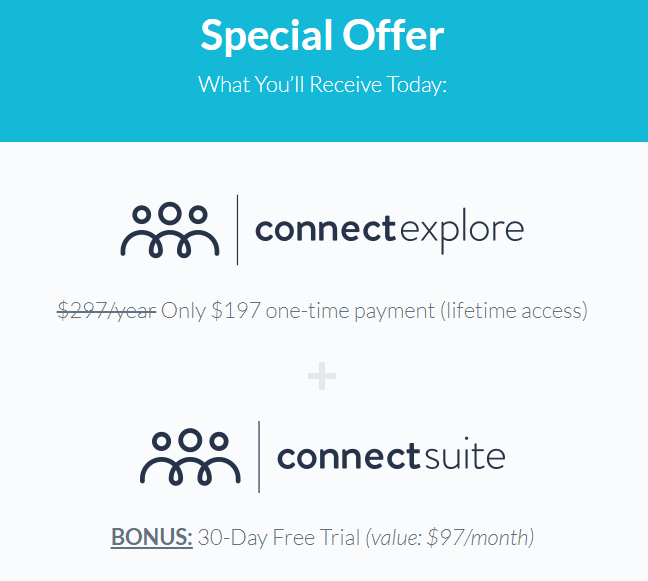 ➡️ Unlimited Access to all of the Premium Facebook™ marketing in the suite, including ConnectAudience, ConnectLeads, ConnectRetarget (more coming soon)
➡️ If you cancel within 30 days of starting your trial, you won't be charged a single dime
➡️ ConnectExplore is yours to keep even if you decide ConnectSuite isn't right for you (as long as you don't ask to refund it, of course)
➡️ If you decide you want to keep ConnectSuite, you'll be charged an on-going fee of $97 per month, starting 30 days from now
➡️ Cancel ConnectSuite anytime – you're never locked into a long term contract
Connect Explore Alternatives:
There are many Facebook Ad Targeting and Audience finder tools available in the market other than Connect Explore. 
Apart from the Facebook interest targeting tool, many Facebook ads spy tools offer you an insight into your competitors best ad campaigns and help you to design better ad campaigns for your company.
Some of the spy tools include Social Adscout, Power Adspy and Adspy Hub, Advertsuite, etc.
In spite of so many alternatives, Connect Explore remains the best option because of its accurate and detailed data analysis through Facebook Ads API, user friendly layout and highest ROI (Return on Investment).
Connect Explore access to Facebook Ads Application Programming Interface (API). It helps to provide you with relevant data and statistics on Facebook Audience interests insight which eventually helps you in executing winning marketing campaigns.
Due to all these dynamic features, benefits, and cost-friendly nature, Connect Explore has now taken Facebook advertising to the next level and has proved itself trustworthy for affiliate marketers, e-commerce marketers, and local marketing consultants. 
From this Connect Explore review, We can easily understand, it is the best Facebook interest targeting tool.