10 Ways to Make Money by Selling Your Photos Online
Hello Friends, Welcome to Digital Patel,
Today, I'm going to show you 10 ways to make money by selling photos online whether you're a professional, amateur, hobbyist, or someone with some smartphone images.
You don't need to be a professional to do it. You can even sell photos straight from your smartphone that you might have taken on vacation or a day with your friends, with family or whatever. It's that; you have all these photos on your phone, you can sell them.
If you're professional and you do a lot of photography, you can sell them on many of these sites and apps. If you're an amateur and more of a hobbyist and you do photography as a hobby, you can sell your photos online too.
So, no matter what skill level you are, what kind of equipment you have, you can sell your photos using these ten different ways and you using many of them at the same time in many cases. Alright then Let's get Started;
#1. SHUTTERSTOCK (http://submit.shutterstock.com/)
Shutterstock is one of the most prominent image sites in the entire world for stock photography, vectors videos & things like that.  This is what their website kind of looks like;
You can use any image you could think of on here. They pay pretty well. You can make around probably 20% to 30% Commission or royalties from the sale of your photos.
It's going to be one of the better incomes you have as a photographer as their website get lots of Organic traffic, Something Like 26.7 Million. Check below Screenshot from Ahrefs SEO Tool;
If you compare it to what you would get from many other websites, so I would recommend Shutterstock, especially if you're more of a hobbyist or professional level. They will review your application and guide you through the whole process to be a contributor and protect you from trouble. So, I would recommend this website and go to http://submit.shutterstock.com/ to get started.
#2. FOAP (https://www.foap.com/)
Foap is more of an amateur type of photo selling service, and it's an app that you can get on your phone. It's completely free. Just go to Foap.com and sign up or you can go straight to the app.
You can get the app on Google Play and in the Apple App Store so whatever device you have you can get it, and it's a free app. It allows you to sell photos online straight from your phone.
You can make pretty good money doing it and get five dollars for each photocell and if you sell the same photo unlimited times, imagine how much money you can make? Get some ideas from other pics and see what's Popular and keep uploading more photos and sell photos online.
#3. iSTOCKPHOTO (http://www.istockphoto.com/)
iStockphoto competes with Shutterstock. It is probably one of the most popular stock photography websites in the world. They have won the most significant amount of traffic to their website. They do photos, illustrations, video & audio, just like Shutterstock and they're probably Shutterstock's biggest competitors.
You need to go through to started selling Photos Online. Click this link; https://www.istockphoto.com/sell-stock-photos.php to sign up.
They have an approval process so you might have to show them a few examples, but you can make a lot of money from them like 45% Commission. It's a little bit higher than their main competitor, Shutterstock but you can use the same photos for both and see which ones you like better, but definitely, iStockphoto is also having a massive traffic photo selling sites on the internet so you will get a ton of visibility.
#4. CLASHOT (http://clashot.com/)
Clashot is a cool service. They allow you to sell your photos through an app. You can get the app for Apple or Android devices, so you can upload straight from your phone to the app and start selling photos online.
On Clashot you can sell your photos at your price. You can charge 50 cents to $80 per photo.
I would recommend you can go to their FAQ section to read more about them. You can make pretty good money from clashot by Selling Photos Online.
#5. SMUGMUG PRO (https://www.smugmug.com/)
SmugMug Pro is more of a professional site like Shutterstock & iStockphot. It's a big site for lots of traffic, so you don't have to worry about traffic & visibility. They have a very professional website, and it's effortless to get started. Just go to; https://www.smugmug.com/features/sell-photos-online
You can set up your shop, your price list and start selling photos online. They will also give you analytics to see how well you're shopping done.
If you do a lot of photography, then you can make perfect money from here. Just give it a try. Good Luck!
#6. SNAPWIRE (https://www.snapwi.re/)
Snapwire is another photo site which has an app. They make review submissions before approval so it might be a little more professional than Foap and Clashot.
It's an excellent place for people to find not only free images but premium images as well. You can download the app, or You can apply on their website to start selling photos online.
There are two ways to earn, "Requests & Challenges" Or "Portfolio & Marketplace."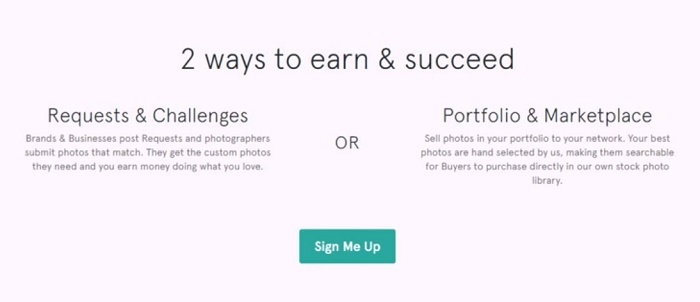 You need to Sign Up to become a photographer and start selling photos Online on snapwires. You get to keep 70% from "Requests & Challenges", where people request a specific type of picture, and you get to keep 50% from "Portfolio & Marketplace" sales.
It pays a lot better than most photography websites, plus they have the app for Google Play and Amazon as well and Apple. All the Best!
#7. ALAMY (https://secure.alamy.com/)
On Alamy website, they claim that they have over 95 million high-quality Stock Images, vectors and videos also the world's most extensive stock photo collection. We do not know about that but here is the organic Traffic Screenshot from Ahrefs SEO Tool;
If you want to sell images, you have to go to their menu at the top where it says sell pictures. They will give you a breakdown of how everything works, and you can apply to start selling photos online. They have their frequently asked questions, so you know all the stuff you need to know about it, and instead of making a measly 30% or less or something you get 50/50.  You can earn good money with Alamy as they have the right amount of Traffic and visibility.
#8. MARKEDSHOT (https://www.markedshot.com/)
Markshot has an App to sell photos, and you can get it for both Apple and Android devices. You can go to their website to find those links or you can go to your preferred app store. They don't have any subscriptions, but they do cross check copyright, so they maintain the high-quality standard.
They allow you to earn 50% when people buy your photos, so they pay you 50% of royalties, and that's a nice bonus, so you can get started just by getting the app or you can sign up on their website.
#9. DREAMS TIME (https://www.dreamstime.com/)
Dreams Time allows you to make money selling your photos, whether you are an amateur or a hobbyist. They even have apps now for both Apple and Android devices so you can get the apps as well you can sign up for free on their website. They have a beautiful & impressive Site also claimed 16 million users, with 51 million stock images, which is pretty remarkable. 
Go to https://dreamstime.com/sell; it will take you to a sign-up page. They have a breakdown of your royalties, which is up range from 25% to around 60%. They have different levels as well, but ultimately you can make up to 60% revenue from dreams time depending on what scale.
It is a great site they pay you pretty well, and they get good traffic so it's one I would consider.
#10. EyeEm (https://www.eyeem.com/)
Last but not least is EyeEm. You can download the app, and you can sell your photos. Here you can Buy or sell Photos.
You fill out this stuff sign up, and it allows you to start selling photos online. You make 50% every time you sell. They make sure your copyright is in check, and you can sell some of the top image sites in the world so you can import from a lot of different places. It's effortless to get your photos on here which is always lovely. You can use the web uploader or through App. You can also import from Flickr, Dropbox, Google, and so it makes it easy.
So, what are you waiting for, sign up for free to start selling photos Online? I hope this blog will help you.
Have a great day!