Bluehost Review – Web Hosting Review of the Famous Hosting Company
Bluehost Web Hosting Review
PROS
– Lot of Free Features for Less
– Bluehost has 24/7 customer support
– Easy-to-use cPanel
– Automatic installations for CMS
– High Server Performance.
CONS
– Customer Support, though readily available, is slow response wise.
– Claims to have 99.9% up time, but still some people complain about frequent down time.
– Customized cPanel will be difficult to navigate for those who are used to the standard design.
Starting At $3.95/mo*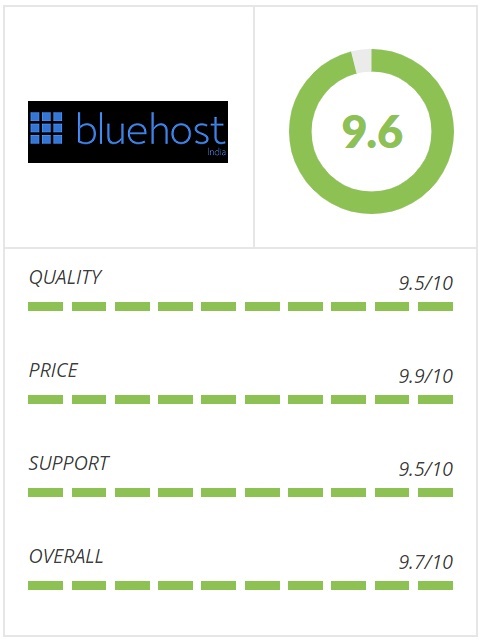 This is my honest review of the services of BlueHost. We only recommend those products which we used and enjoyed.
If you are one of those start-up companies, who are interested in creating their websites to increase their online presence, then chances are, you often find yourself in confusion or a block while deciding the best hosting service provider you need for your website. It makes sense, and we sympathize with your situation because there are countless providers on the internet, and all are claiming to provide better services with confidence (every provider can't be good!).
Even if you already own a website, at some time, you may need to change your servers for your website due to increased traffic and demand. This further assures you of your successful online marketing. Today's fast advancing technology allows anyone to reach and expand their interests, whether for personal or business (even politicians have started using a website!).
Getting a web hosting plan and setting a website is a very vital task and takes A LOT of consideration. For instance, you need to think about the best value for your money, the tools, and services that you need to set up your online presence or expanding your existing site. You need to look into the plan's flexibility, functionality, and customer service support.
In this article, we are going to review BlueHost's entire feature. We hope that you find it useful, but we allow comments on our website, so what are you waiting for?
Why use Bluehost for hosting your website?
We felt the need to create a video to review on the services of Bluehost. If you have any question about it, then ask in the comments section below!
Video Review and Updates:
Our Review of BlueHost
Web hosting companies play an essential role in a website's success. These companies help websites become readily available to online visitors at any time. But this dilemma arises: with the growing number of companies offering various plans, which one is the best? Finding a service with a blend of reasonable prices, features, services, and support is challenging. One can seek out advice from accomplished bloggers or search over the internet to help narrow down the long list.
Along with the search, one may stumble into the renowned company named Bluehost – one of the largest web hosts with more than 1.9 million hosted domains. We are going to drill down Bluehost's services. It aims to provide useful information for readers and help beginners make the right decisions. Reading through the Bluehost review will give you an idea of what the company is capable of offering you.
Bluehost Shared Hosting Plans and Pricing
Bluehost offers three kinds of plans: (1) starter, (2) plus, and (3) business pro. The idea is categorized and based on the privileges and features it gives to users. Let's briefly discuss each plans' inclusions to help determine which best suits your needs:
Starter – is priced at $3.95 a month, one can have one website with storage space of 100 GB; unlimited bandwidth; host one domain and 25 subdomains; have up to 100 Email accounts with 500 MB Email storage; and extra $50 marketing credit.
Plus – The most popular plan is priced at $5.95 a month. With this plan, one has several unlimited features that include hard disk space, Email accounts, domains and sub-domains, and a maximum of $200 marketing credits (over $24 a year in extras), plus other additional features. This is highly recommended for starters since pricing is reasonable.
Business Pro – As you progress, a need to upgrade will take place. The Pro plan offers impressive features, like automatic data backup, 24/7 technical support, free offers up to $200, unlimited email accounts, and quality service. All this for only $13.95 a month!
When comparing the plans offered by Bluehost, it is quite clear that upgrading to business Pro is worth the cost. With the addition of a few dollars every month, you can boost your website's speed and improve bandwidth power. Studies have shown that internet users would not go to websites that would take them 15 seconds to open. So the faster your site opens, the more users would come to check it out. Honestly, the pro package is worth the investment!
Bluehost Shared Hosting Features
– Unlimited Storage Space for Website
– Unlimited E-mail Accounts and Space
– Free Domain
– Ability to host unlimited domains and subdomains
– Automatic Site-builder with templates
– Free advertising credits of up to $200
You can't please anyone. Bluehost understands this fact and respects the costumers' rights, so they implement a money-back guarantee policy. Since Bluehost values its customers very much, they have built a team dedicated to assisting them in their every need.
Final Thoughts
Bluehost is arguably one of the best hosting providers, because of its unique packages, 99.9% uptime and best of all, they are recommended by WordPress! If you search for its reviews on the internet, then you will realize that most people find satisfacton with their services. They are also in our list of top 13 hosting companies.