Hostinger Hosting Review – The Perfect Hosting Provider of Performance, Features & Price!
If you have the same products with different Prices and you had to choose between them, then you probably want the cheaper option. It is simply better value for your money, so why aren't you doing the same thing with your hosting provider.
Well Let's review that Now;
Hostinger claims that they are offering the fastest web hosting at a price, nobody can beat. If that is true, then they would be the best web hosting provider company in the market. So, I went ahead and reviewed their claims to see if they're accurate, and here's what I found.
A 24-months premium plan with the Hostinger will cost you $83. This includes the domain name and a Free SSL certificate, which makes your website entirely secure. You should have an SSL certificate because nothing makes users leave your website faster than a "Not Secure" sign in the top corner of your browser address bar.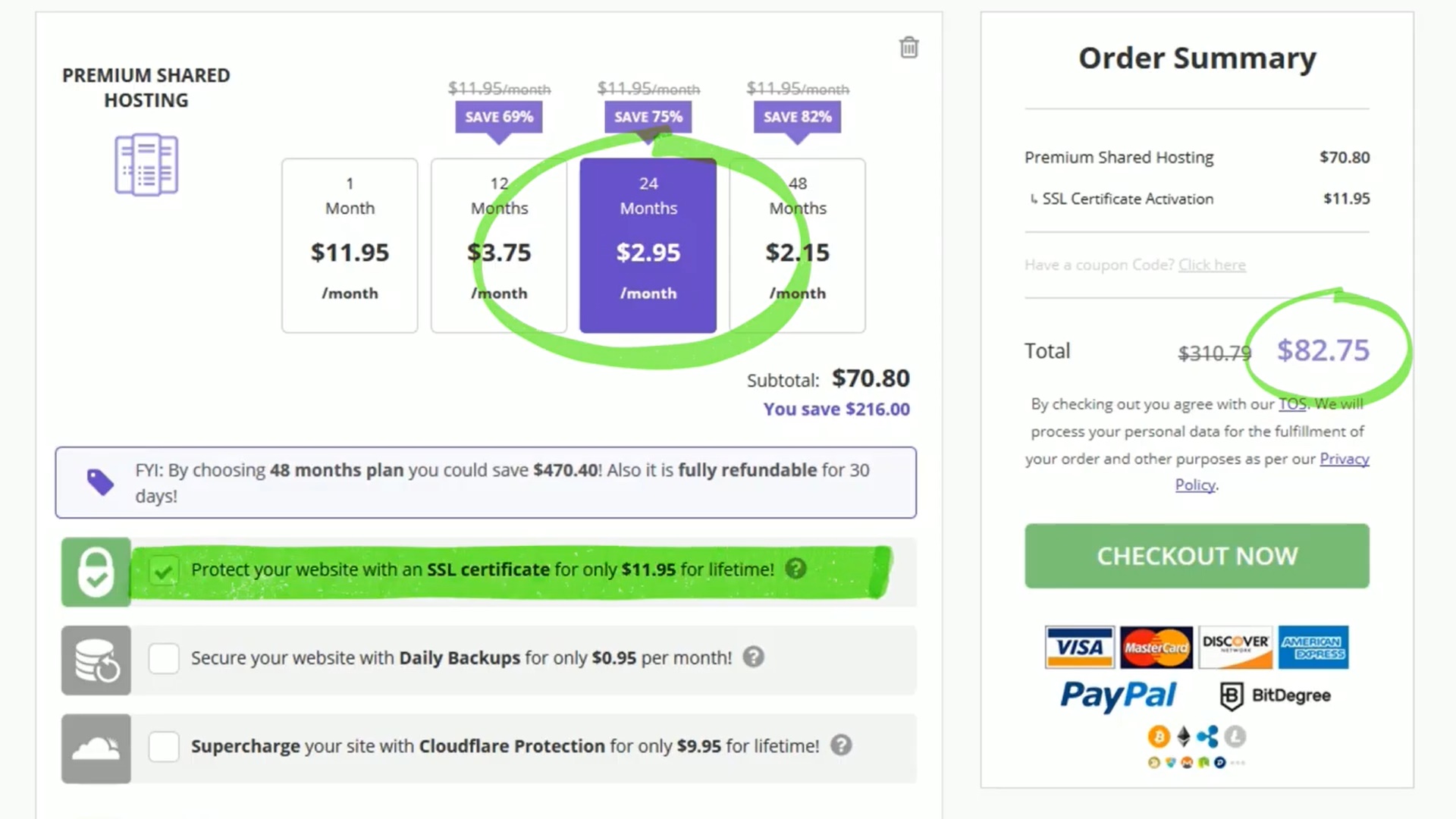 Let's place it all together now for the next two years; you'll have unlimited bandwidth 20 gigabytes of SSD storage disk space, a domain name, and an SSL certificate and all of this for just yeah $83.
I will use SiteGround and HostGator as a comparison for Hostinger because right now, they're quite big players in the market. So, I think this will be an invaluable comparison point.
If you choose SiteGround for the same features, you'll have to pay $159 that is a 92% increase in price for virtually the same product.
HostGator will cost you $216, that's an insane 160% increase in price. However, we all are smart. We understand that the price is not everything.
Sometimes you ask for additional features and the best pleasant performance. So, let's see how Hostinger stacks-up against other hosting providers in the next 5 minutes.
What immediately stands out from Hostinger is that they don't use the standard cPanel. When managing your account, Hostinger developed its version of cPanel that has all of the same functionality but seems to be way more responsive and faster to navigate than the standard cPanel.
Counterpart, if you're not a die-hard cPanel fan, I can guarantee that you will appreciate having this feature. You will also have a tool like automatic WordPress installer, that's super simple to use and is probably one of the easiest ways to create your website in 2020.
Hostinger says they have in-place optimizations that make your WordPress websites load faster. All the hosting plans with Hostinger include personal email features, which means you can register an own email address using your domain name, and the email system is pretty straightforward to use.
Cheap web hosting that holds all of the latest features, then performance is the place where they lack something. Well, I thought so, but not precisely. Let me show you why?
I did a speed test at https://gtmetrix.com/, and I saw that Hostinger was faster. It scored better results in both Page Speed and YSlow. Both SiteGround and Hostinger fully loaded the website in 1.5s. The determining factor here is that SiteGround is twice as expensive, so why would I pay twice as much for a product that doesn't seem to perform as good as something that only cost me $83.
At this point, I thought may be there's something I'm missing, so I used Uptime Robot to monitor the response and uptime of SiteGround and Hostinger. SiteGround had a slight edge in uptime as they scored 99.99%, and this is probably as good as it gets. Still, their response time was 632 milliseconds, which is approximately 3.5 times higher than Hostinger's 162 milliseconds.
Keep in mind that Google suggests that for the best performance, keep this number lower than 200 milliseconds at all times.
However, I wanted to include the HostGator into these performance tests, but I couldn't. Because when I purchased my testing domain with Hostinger & HostGator, I purposely made some mistakes to test their support staff, and here's how Hostinger versus HostGator handled my request.
I bought a domain name "testingpurposeshostgator.xyz," and I knew it would have issues because it contains copyrighted text, so just as expected, I couldn't register this domain on my own even though I already paid for it.
I have contacted the Hostinger support team, and within minutes they've described why the issue happened and tried to fix it right away. So, I gave them a different domain name, and they just changed it. This entire process took less than 15 minutes.
Well, I also purchased my hosting plan for the same copyrighted domain name with HostGator and later asked the support staff to change it. Instead of changing it, they directly banned my account and told me to pay again even though I have already paid for the same services.  Later, they requested to email them a photo of my government-issued ID, which I wasn't comfortable doing, but I did it anyway for this review.
A couple of hours later, I received an email asking me to submit a new domain name. Still, after two days, they were not able to change my domain name as I asked, So it took me 1 live conversation, 8 emails conversation, and three days or wait, I am right back where I started. It took only 15 minutes for Hostinger to solve precisely the same problem.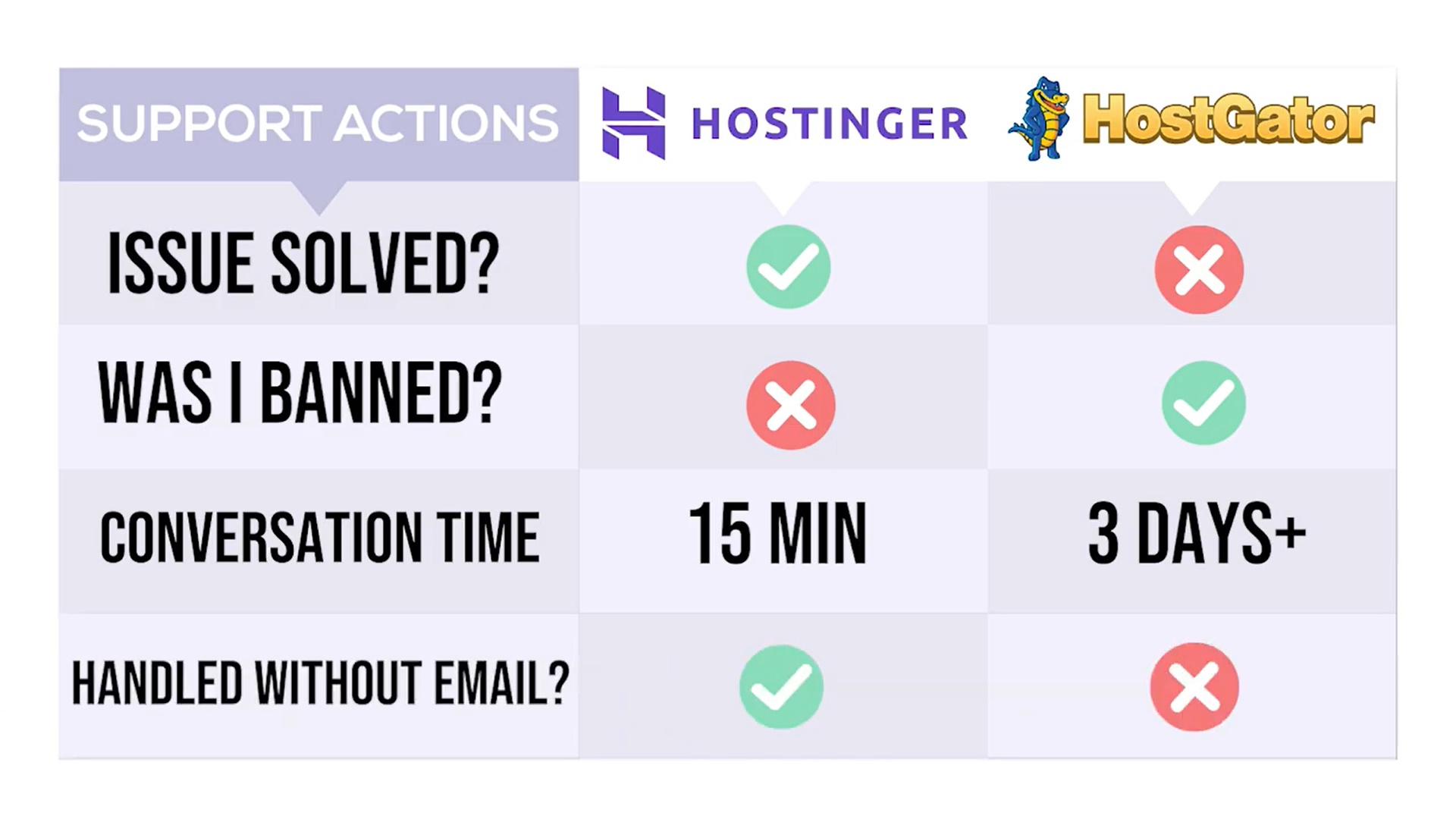 At this point, I can comfortably say that Hostinger offers fast, reliable & cheap web hosting. However, I believe that such a thing as a perfect product or service does not exist, and everything has its flaws, so here's some of Hostinger's.
I've tried to find some dirt on Hostinger so that this review couldn't be so one-sided, and a couple of bad things that I could find were some refund policies on their Terms of Service. Some of their services are not refundable or have limited periods to be refunded even though they advertised a 30-day money-back guarantee.
The SSL Certificate they are offering is called "let's encrypt" it's a free SSL Certificate product, so they're charging you $12 for a free product as an installation fee.
My final score points for Hostinger is 9.5/10 just because I don't think that such a thing as a perfect service or product, actually exists. 
So, I want you to share your experiences good or bad with Hostinger in a comment, and I hope you like my review!